You're viewing Apigee Edge documentation.
View Apigee X documentation.
To use Apigee Edge, you need an Apigee account.
In this step, you'll create a free 60-day evaluation account.
To create your evaluation account and log in:
Enter your name, email address, and a password. Be sure to read and accept the terms of service.

Click Create account.

Apigee sends you an account confirmation.

In the confirmation email, click the account verification link.

You'll be sent to the login page: https://login.apigee.com/login

Log in with the email and password that you used to sign up.

Apigee activates your new account. This can take several minutes.

After your account is activated, the following message displays:

Click Get Started and you are logged in to the Apigee Edge management UI.
A word about organizations
An organization is a container for your API proxies and the environments you deploy them to (either "test" or "prod"). You use the organization name in your calls to the API proxies.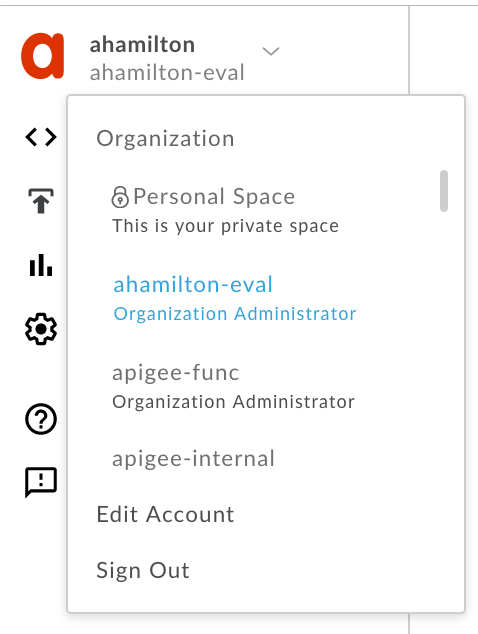 The name of the organization is autogenerated by Apigee based on your email address (minus the @domain). For evaluation accounts, it will end with "-eval".
You can see the name of your new organization in the UI's user profile drop-down menu (see Figure 1).
If necessary, Apigee adds a 5-digit random number to the organization name to ensure that it's unique. For example, if your email address is ahamilton@example.com, the organization name might be auto-generated as "ahamilton-eval" or "ahamilton-12345-eval".
To call an API proxy, includes your organization name and the environment (either "test" or "prod") in the URL:
https://your_org_name-[test|prod].apigee.net/path/to/resource
For example:
https://ahamilton-eval-test.apigee.net/getstarted
When you create a new account, your email is automatically added to the Organization Administrator role. That means you can do just about everything in your organization.
Next step