Apigee API Consoles make it easier for developers to learn and use an API. Featuring an easy-to-use interface, Apigee API Consoles provide a GUI for exploring an API's resources and executing its methods, as shown below.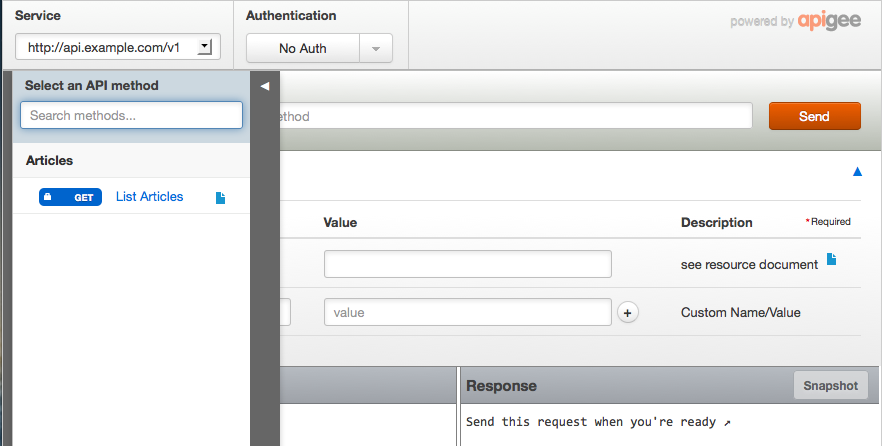 Video: Check out this short video to learn how to use the API Console.
Your first step when using the console is to choose the API and method that you want to use. Select the service that contains the API from the Service dropdown to open the panel on the left showing the available APIs and method. If you move the mouse over the API name, a popup appears with a brief description of the API. Select the document icon next to the API name to open a page describing the API.
After you select the API, the request method and the base URL of the API appear in the console. You can now select the Authentication method, if necessary, and set query, template, or header parameters passed as part of the request: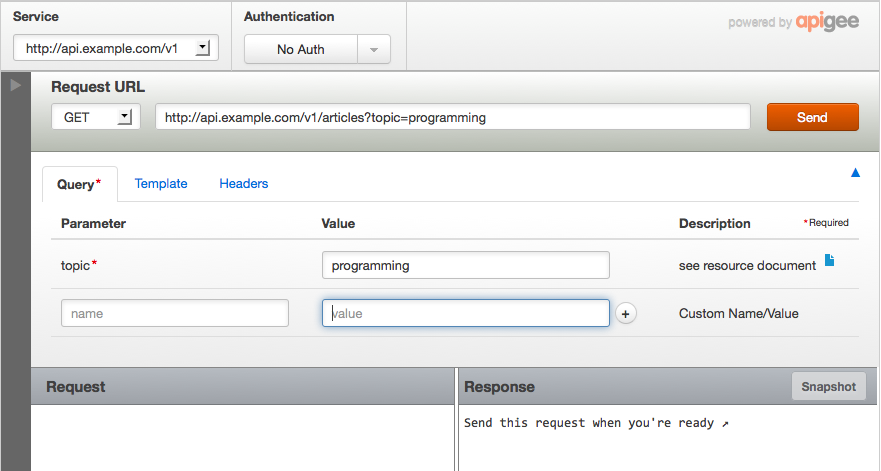 In this example, there is no authentication required, but there is a required query parameter named topic. After setting the query parameter, select the Send button to send the request. You can see the request and response objects at the bottom of the screen.
Apigee provides Consoles for a growing number of API providers. Check out Apigee's current list of API providers here, then take a look at an console such as Twitter or the Apigee Platform Console. Choose an API, select a method from the drop-down menu, enter any authentication information and parameters, and then press Send. Your request and the response are then displayed below. Tracing API calls is just that easy.
What is Apigee Console To-Go?
Apigee Console To-Go is your own Apigee API Console—on your own site. Just describe your API using the Web Application Description Language (WADL), upload your description to Apigee to create a custom Console, customize the look and feel, and then embed your API Console on your own Developer Services portal.
Your Console can display all methods available to developers, organized into groupings of your choice. Developers can browse the methods, reading the descriptions you provide for each method and parameter, and see what information is required for each request, what authentication mechanisms are supported, and what parameters are optional or required. More importantly, developers can use the Console to enter authentication credentials and easily test requests and see what responses are returned.
Browser support