When the Edge for Private Cloud version 19.01.05 tile is available, it appears in the Ops Manager as shown below: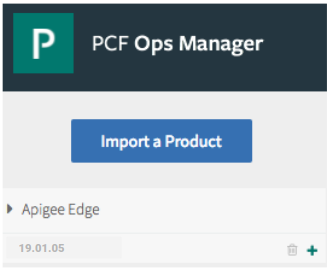 To update Edge version from 4.18.05 to 4.19.01:
Download the product file from the Pivotal Network.
In the Ops Manager, select Import a Product to upload the product tile.
Select the plus (+) icon to accept the tile. The v19.01.05 tile replaces the existing tile.
Only if you have enabled Monetization:

Select Config Overrides in the Settings tab.
Specify the following value under Apigee Global Config Overrides:

conf_apix-mint_mint.enable_allow_default_pg=true

Select Save.

Select Apply changes to start the update. When the update completes, you return to the Ops Manager.
More Information